Exhibitions - Page 5 of 6
I have graduated from the Academy of Arts in Lodz, Poland one year ago. I am educated as a graphic designer but working mostly with photography. I am intensely inspired by Wim Wenders movies. Stephen Shore, Lee Friedlander & Walker Evans are the photographers that I admire. I am also influenced by the space, environment, strange places, cites that I visit and the mere fact that I am an emigrant, "at home nowhere". I am the searching photographer, the one who documents and observes rather than creates. I am trying to tell my own story by showing people what my world looks like. I believe places can tell you stories as interesting as people do.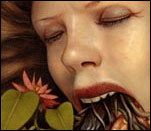 Naoto Hattori originally from Yokohama Japan studied Graphic Design in Tokyo before moving to new York to study in the School of Visual Arts. In the year 200 he recieved a B.F.A in illustration from the Schol of Visual Arts. Naoto uses a variety of medium in his work including watercolours, Acylics, oil and inks and runs his own site www.wwwcomcom.com dedicated to his work.
Roesy (Alan Roe) hails from Birr, Co. Offaly and is probably better known for his music than his art, having now released 3 albums. Running alongside his music, however, is an amazing talent for painting, which has had a major influence on Roesy's music and vice versa. His songs sound as though they are being painted before your very eyes. Close them, and you will be transported to a different world full of beauty, light and optimism. Viewing his paintings has the same effect. You should check out his site, great design, loads more painting and you can listen to his music.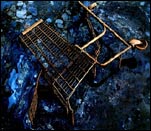 My Fuji Finepix and I reside in London or Sheffield, England, depending on the time of year. There is very little photography that I do not enjoy to create. My particular interest is probably macro shots, particularly of living things. I also both study and enjoy geography. I love to visit new places. I was lucky enough to spend a month in Namibia in the summer of 2003. It is truly the most beautiful and friendly place that I have ever visited, and my camera and I dream of the day that we might return!
Nicole de Rueda, of Bordeaux, France, is an illustrator who creates both illustrations and flash movies. She is currently seeking overseas representation.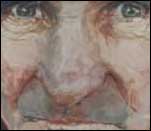 Kim Hart is currently making paintings on canvas, using acrylics. While the work could easily and happily fall into place within the tradition of portrait painting with regard to Western notions of such a discipline, there are idiosyncrasies to be found that subvert certain orthodoxies. There is a seeming contradiction in the genesis and completion of each painting in that the artist acknowledges the impossibility of objectivity in contemporary portraiture but nonetheless attempts to make paintings devoid of sentimentality. By focusing on the vulnerable and exposed qualities manifest in the subject, the intention is to draw the audience closer and elicit an empathetic and if possible, a sympathetic response.

In direct contradiction to the dispassionate stance of the Post Modern, Kim Hart intends to involve and discomfort the viewer, to the extent that looking becomes an emotional strain. Without the emotional safety that the ironic arguably affords, the audience is initially knocked slightly off balance and then this is further aggravated by the physical scale of the work.

This use of large canvasses is deliberate for another reason. Because of their size, the portraits work on a representational level at a remove from the canvas, but on closer inspection, the image echoes the ability of the eye and the camera to zoom in on the subject to the degree that it is rendered indefinable. This parallels Kim's concern with the relationship between the flesh and the self and continues to be a significant factor in the development of her approach to making portraits.

In addition, in employing a white and therefore neutral ground, the works attempt to get to grips with the respective qualities of the mug shot and photo-booth snap, both universally familiar and defying any specific interpretation. By rejecting the use of visual props and their accompanying symbolism, subtext and context, the artist forces the audience into a position of responsibility and accountability with regard to that familiar concept: no man is an island.

It is possibly this unflinching documentation of truth that defines Kim Hart's work: that it is characterised by sympathy but not overarching sentiment. Here there is no theatrical manipulation or tugging of heartstrings - the people speak for themselves.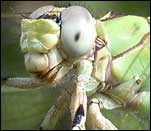 Raymond van der Woning is a photographer living in Edmonton, Alberta Canada. He can be seen lurking around parks, in bushes, and near open water, searching for insects. His favorite insects are dragonflies, although he admits he hasn't met an insect he doesn't like. He used a simple Nikon digital camera with no special lenses or filters to make these images.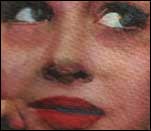 The group show is a show that I'm hoping will run every year at different times. This first group show is to mark the end of the first year of exhibitions on new chemical history and has all but two of the years artists showing. I would like to thank all the artists for their generosity in taking part in this show, I think you'll agree the show speaks for itself.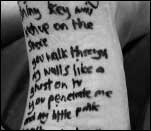 I'm a photography student living in Brighton, England, with a keen eye for creating images as a means of processing and documenting human emotion. I started creating images as an alternative means to keeping a textual diary, in order to articulate and document the range of emotions that I experience on a day-to-day basis. I'm a strong believer in art remaining as a personal platform for artists. A great deal of my work involves self-portraiture in some way or another with heavy emphasis on the human body and dark aesthetics. I find beauty in every day objects, the human form, the sheer uniquity of human design and the art in simply breathing.
I am a University student studying New Media in Maine. I became seriously interested in photography just over a year ago, and over these few months it has become my primary means of creative expression. Currently, I spend the majority of my time photographing personal spaces and transforming them into something surreal and dark. I take the familiar and make it unfamiliar, and in doing so gain a new appreciation for the world around me.